La Taverna

The Quintilia Taverna Restaurant, located in the center of Tivoli near Piazza Santa Croce, is an elegant, nice and very distinctive because of the Roman frescoes in its halls. The restaurant, which has changed ownership in 2013, serves traditional Italian dishes made from the genuine taste of intriguing but refined. The house specialty is fish, cooked with simple recipes and refined passion arising from the Neapolitan cuisine.
The restaurant Taverna Quintilia has a capacity of about 40 seats and also has a select wine cellar.
Ii restaurant is located in a very central location from which you can easily and quickly reach the main monuments of Tivoli, to match the pleasure of good food all the charm of art:
Villa D'Este with a 2 minute walk to the famous and beautiful villa known throughout the world for its fountains and the beauty of its Italian garden.
Villa Gregoriana reached in less than 5 minutes walk is unique to the route that winds through tree-lined paths alongside the flow of the Aniene river, which flows up to throw from the Great Waterfall.
Temple of Hercules round winner: with about 10 minutes to walk to the temple, unique and totally reastaurato in 2011, which tells the pagan origins of the city.
Temples of Vesta and Sibilla: With about 7 minutes walk you can reach these two temples of pagan origin, also symbol of the city, the most famous of which is the Temple of Vesta (and not erroneously that the Sibyl, as reported by many) with its circular colonnade with.
Villa Adriana: With about 10 minutes by car you can reach the largest Roman villa which still exists today. It is a complex spread in the countryside tiburtina over 80 hectares, built in the second century. AD by the Roman Emperor Hadrian, scholar and a great supporter of the arts, he wanted to be in this house all the monuments he had admired during his travels. The choice of the location, in the area of ​​Tivoli, is due to a need for separation from the hustle and bustle of life of the urban area of ​​Rome, welcoming its guests in a comfortable climate and the environment and at a moderate distance from Rome. Of particular note is the Canopus: ellettica bath with columns and statues around.
Photogallery
[Nggallery id = 2]
Menù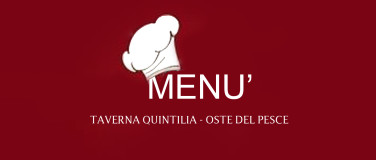 At Taverna Quintilia, creativity, the play of flavors, colors and contrasts are found in every dish on the menu. The fish and seafood is the ultimate expression of the taste of Neapolitan cuisine, in a combination with the tastes and scents, the fresh fish, gives the palate of our guests.